Current Classes At A Glance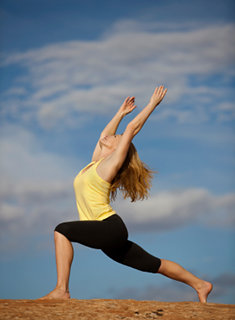 Yoga With A Twist
Mondays at 10 a.m., Pacific T  $30/class

A lightly strenuous yoga class that stimulates brain, breath, and body. The emphasis is on safely expanding your movement "vocabulary." No experience needed; newcomers welcome.
Eliana's teaching integrates the strength, balance, agility, and breath awareness of yoga with ZHealth-based visual, vestibular, and proprioceptive skills for well-rounded neurophysical health. Poses are rooted in the Anusara and Iyengar traditions.

Neurocentric Strength and Conditioning Class
Fridays at 10:00, Zoom video, $30/class
A one-hour small-group online class to improve balance, strength, mental skills, and aerobic fitness. Join anytime. Fun and tailored to individual needs.
You will be mobilizing joints, stimulating many parts of your brain, and breathing in new ways as you perform familiar and unfamiliar strength, cardio fitness, vision, and balance exercises for a more resilient brain and body!
Going With The Flow: A Free Introduction to Your Lymphatic System
New introductory class coming soon. Contact us for details.

Did you know your lymphatic system is nearly synonymous with our immune system? And that you can directly support that system?
This is a Free! short introduction to the lymphatic system: what it is, why it is so important, and how to begin clearing yours with a simple 60-second daily practice.
Lymph drainage/ stimulation is best approached gently, so this is the opening act, to be followed by a six-class series Sunday evenings and Monday mornings. Sign up now (see below) or decide after this class.
Restoring Your Lymphatic System: A 6-Week Class
New series starting soon. Contact us for details

Your lymphatic system is your sea of liquid immunity, transporter of fats, and balancer of fluids. Without it, we we could not survive. Yet few people know much about the lymph or how to care for this vital body system.
In this class you will learn in detail how the lymphatic system works, and you will take with you a set of simple practices supportive of your immune health that you will have for the rest of your life.
Better Brain, Better Body, aka Neuro for Newbies
Sundays at 5:30 p.m. Pacific Time; $35/single class, discount packages available
This class is an introduction to a whole different approach to your health.              You will improve…
~ movement and brain mapping through simple joint movements
~ brain and body through visual exercises
~ balance and coordination through Vestibular and Cerebellar exercises
~ breathing through practices that open up whole new body areas to breath
Most of all, you will begin to transform as you "get it" that your brain and nervous system run the show. For instance, when we truly understand that pain is an output from the brain in response to inner and outer conditions, not something that happens to us, that completely changes our options and becomes empowering and life-changing.
Who knew that the breath could have it's own life! Eliana has helped me discover and change breathing habits that were undermining my activities and my quality of daily life.
D.G., Poet and Artist
The breathing work that  Eliana has done with me has helped a great deal with quieting my mind and my very over-stimulated nervous system. The "sitz rock" with my natural breath rhythm has been a miracle relaxer for me!
D.B., Pilates Trainer
Our work is making a difference in everything I do. My posture has improved, and I am more breath-aware. I use my breath more effectively as I engage in exercise, yoga, and even in sitting and walking.
K.R., MSW, EFT Master
Call or email today to schedule your complimentary twenty-minute phone consultation.