Hatha yoga (physical yoga practice) is a well-known and well-documented mind-body discipline that offers many mental and physical benefits. When practiced safely, hatha yoga can positively affect balance and muscle tonus, blood pressure, bone strength, organ health, and much more.* Yoga can also help you become calmer, more courageous and even daring, more compassionate, and more present.
Being In Motion Z-Yoga integrates brain-based assessment and training (see ZHealth) with hatha yoga of the Anusara and Iyengar traditions, which emphasize the use of guided breathing and supportive alignment principles, props, and touch to help you make each pose your own.
In Z-yoga, the three limbs of the nervous system: proprioception, vision, and the vestibular system, are integrated with the poses to support optimal health.
Also unique to Z-yoga is our ability to assess poses to find what is most helpful. For instance, bilaterally symmetrical work can often be more harmful than helpful; you may benefit from performing a pose on only one side. Or you may find that you need to integrate specific movements of the eyes, tongue, or head to support the brain finding balance in a pose.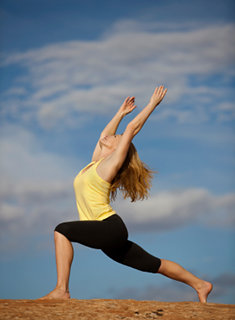 Eliana Uretsky is a nurturing, patient and generous teacher who inspires me to explore myself and my world through Yoga. She really knows her human anatomy, which helps me feel safe despite physical restrictions. No matter what the circumstances, Eliana maintains a consistent and high level of spirit and attention in her teaching.
K.B., Retired Corporate Executive
I am a fitness instructor myself, and I take pride in expanding my skills with on-going training. Eliana is the one I rely on to help me continue growing in my own yoga practice and in my teaching.
T.F., Fitness Business Owner
Call or email today to schedule your complimentary twenty-minute phone consultation.